Optimere
Optimere provides a comprehensive set of tools to regulated customers ensuring all their communications are compliant, accessible, accurate, and optimized.
Quick Facts
3x+
Growth From Investment to Exit
$4B+
Total Addressable Market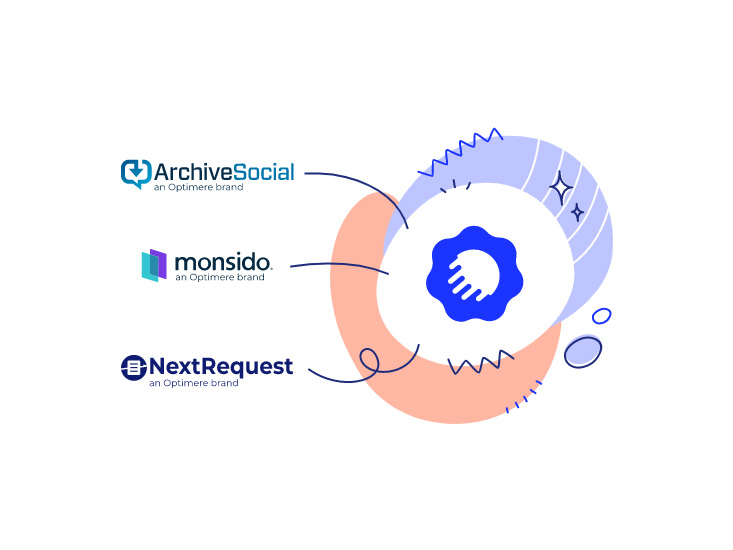 Background
As regulated organizations look to improve transparency and maximize engagement with their customers and constituents they face a myriad of federal and state regulations related to record keeping, accessibility and data privacy these requirements. Optimere provides digital communications compliance solutions to enable regulated organizations to manage compliance workflows across their highest volume digital communication channels.
01
Use ArchiveSocial's Market Leading Position to Create a Robust Compliance Platform Through M&A
ArchiveSocial had a leading position in the social media archiving market for local governments. We helped ArchiveSocial acquire NextRequest and Monsido, deepening the company's capabilities within the records request workflow as well as broadening the company's portfolio of tools for ensuring compliant communications.
02
Increase Addressable Market Opportunity
ArchiveSocial had built a robust sales engine delivering products to regulated organizations. By enhancing ArchiveSocial's pricing and product management process and completing the acquisitions of NextRequest and Monsido, we were able to increase the company's addressable market by over 10x.
03
Build Senior Management Team Capable of Managing The Organic
Shortly after Level's initial investment in ArchiveSocial, we hired a senior management team with the experience to manage a rapidly growing core business as well as execute on an M&A strategy and integrate the acquired businesses into the platform.
Value Created
Level initially made an investment in ArchiveSocial. ArchiveSocial was a rapidly growing market leader in social media archiving and had built a robust sales and marketing engine to that end market. We were able to capitalize on the company's leadership position by enhancing ArchiveSocial's product strategy and acquiring NextRequest and Monsido to build a comprehensive platform serving all the communications compliance needs for regulated organizations and thereby increasing the total addressable market by over 10x.
To manage the organic growth as well as execute on M&A and integrate the acquired businesses into a platform, Level hired an experienced management team including a CEO, CFO, VP of Marketing (Government), and VP of Marketing (Commercial and International). This team rebuilt the company's reporting and financial infrastructure and secured a credit facility to provide additional non-dilutive growth capital. Level helped orchestrate an exit process that led to numerous competitive offers, resulting in a sale to a strategic acquirer, CivicPlus.
Important Dates
MILESTONE
April 2019
Level Equity acquires ArchiveSocial
Level Equity leads $53 million majority recapitalization and growth financing of ArchiveSocial.
MILESTONE
October 2019
Ray Carey joins ArchiveSocial as CEO
Ray joined as CEO after several successful exits including Astute and NeoNova Network Services.
MILESTONE
January 2020
Level Equity Invests $16 million in Monsido
Level Equity invested $16 million in a majority recapitalization and growth financing of Monsido
MILESTONE
June 2021
ArchiveSocial Acquires NextRequest
ArchiveSocial acquires NextRequest, deepening its capabilities in records request workflows.
MILESTONE
August 2021
ArchiveSocial Merges with Monsido to Form Optimere
Optimere, the merger of ArchiveSocial and Monsido, creates the market leading provider of communications compliance tools to regulated organizations.
MILESTONE
June 2022
Optimere Acquired by CivicPlus
Optimere was acquired by Insight Partners-backed CivicPlus. Level remains a significant minority investor in the combined company.
Partner Testimonial
"Level was awesome. Even NBA stars need coaches to push them to do more. Growth is hard and operators like me can easily get stuck in the day to day. Level helped us take a step back and look at the larger value creation path. From day one, Level identified the key value creation items we could improve upon and continually challenged us to execute on those. For us at Optimere, the primary leverage point was increased total addressable market. Level advised us on market landscape work, two acquisitions, debt and equity financings, integration and the subsequent exit strategy needed to drive an outstanding outcome, all in record time."
Ray Carey
CEO of Optimere